Pokhara is one of those charming cities that always attracts travelers where you can easily stay longer than you planned. Located on the banks of Lake Phewa, the city is surrounded by impressive mountains and peaks, with some of the best trekking routes in the world.
In addition to stunning hikes and lakes, this popular destination has a wide range of culture and leisure activities, such as markets, pagodas, cafés and restaurants offering delicious Nepalese food.
Just the perfect stop before starting your adventure in the mountains!
The Best Things to do in Pokhara
1. MOUNTAIN GEAR
Pokhara is a great bazaar for mountaineering. Hiking is the main tourist activity in the region, so it's not surprising that the city has lots of these stores. Although most of the items for sale are counterfeit, there are some real bargains. You'll find different qualities among these fake items depending on the price, and some of them are really good. That's the place to buy your "North Fake" jacket!
2. WALK AROUND THE LAKE
Take a day to just walk around the lake, relax and see how local women wash their clothes on the shore. You can hire a boat trip to admire the mountains from beautiful Lake Phewa.
3. WORLD PEACE PAGODA
Come to the beautiful world peace pagoda to enjoy its architecture and landscapes. Located at the top of a hill, the pagoda offers nice views of the Annapurna range and other nearby mountains.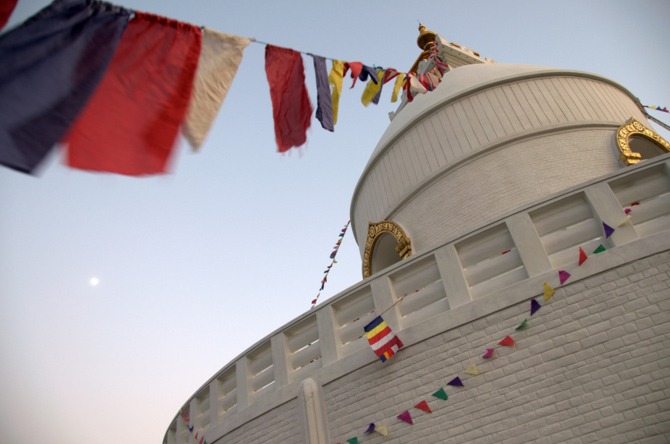 4. ADVENTURE ACTIVITIES
The adventure capital of Nepal lives up to its name with activities such as paragliding, bungee jumping and zip-lining. Paragliding in Pokhara is by far the most popular of these options and allows you to fly over the lake with spectacular views of the Himalayas. Prices start from about $70 US.
5. SARANGKOT VIEWPOINT
If you are not fond of extreme activities, you can hike up to Sarangkot viewpoint to get some nice bird's-eye views. Although it was a bit cloudy when I visited the place, you can enjoy incredible views of the Himalayas on a good day.
6. TREKKING THE HIMALAYAS
Trekking is the main reason most people visit Pokhara. The most popular routes are the Annapurna circuit, which can be completed in about 21 days, and the hike to the Annapurna base camp, which can be completed in about 8 days.
7. RELAX, GET A MASSAGE OR GO OUT
After several days or even weeks spent hiking the mountains, what could be better than some relaxation or a massage? The city is full of bars, massage centers and restaurants that get quite animated at night. In Pokhara, it's impossible to get bored!
8. TRY LOCAL FOOD
Nepalese food is delicious, so do not miss the momos (flour dough filled with meat and spices), the sekuwa lamb (roasted in a wood-fired oven with natural herbs and other spices) or the simple dal bhat (a lentil soup accompanied by rice, vegetables and chapati).
---
HOW TO GET TO POKHARA
Buses from Kathmandu cost between $10 – $25 US depending on the bus and the service. The local minibus is the cheapest option ($10 US), while companies like Greenline are more expensive but more comfortable.
If you decide to take the minibus, like I did, don't let the speed and recklessness of the driver scare you: they are all just crazy!
---
WEATHER. WHEN TO GO TO POKHARA
Although you can visit the city at any time, the best seasons are spring (March to May) and autumn (September to November). This way, you avoid the cold winter and the rainy season.
PLAN YOUR TRIP
---
ACCOMMODATION
I loved this hostel in Pokhara: Pushkar Backpackers.
AirBnb is another good option for couples and groups, with rooms and apartments at great prices. If you sign up through my link, you will get $35 of Airbnb credit!
TRAVEL INSURANCE
I highly recommend that you get a good insurance policy before you visit Nepal. Trusted by thousand of adventurers, World Nomads is one of the best and more reliable options (without breaking your bank).
---
Do you need a guidebook? Get the Lonely Planet Nepal (here on Amazon)
---
---
Do you have any question about Best things to do in Pokhara? Please, contact me!
---
Disclosure: As an Amazon Associate I earn from qualifying purchases. Some other links in this post are affiliate links too.
Hi, I'm Miguel; Adventure traveler, scuba diver and hiking lover. I have been traveling the world for the last 10 years and I hope my experiences, photos and hiking routes inspire you to travel the world too.