Located along a valley surrounded by giant volcanoes, the city of Quito offers an interesting fusion of Spanish colonialism, local culture and overwhelming nature. It's no wonder that the Andean city attracts hundreds of photographers, hikers and visitors every year.
Situated at an altitude of 2,800 meters, Quito is the second-highest capital in the world and a place you should not miss on your way around this amazing country. Here you'll find everything: huge cathedrals, colonial streets, modern shops, lively nightlife and panoramic viewpoints where you can get close to the sky.
Top 10 Best Things to do in Quito, Ecuador
1. STROLLING THE COLONIAL STREETS
The Spaniards created a beautiful colonial city and the Ecuadorians have been responsible for taking care of it. Quito is said to be one of the best-preserved ancient capitals in the Americas. Stroll through the colorful streets where you will find large squares and impressive churches and cathedrals.
2. CHURCH OF SANTO DOMINGO
Located in the historic center, Santo Domingo Square is one of the busiest places in the city, where tourists take pictures, artists create performances and "Quiteños" walk with the family. It is especially recommended that you visit the square in the evening, when artistic representations or exhibitions liven it up.
3. SAN FRANCISCO SQUARE
This spectacular square, where the church and monastery of San Francisco stand, is another lively part of the city that you should not miss. It's a pretty touristy spot, with restaurants and dozens of street vendors. This huge "plaza" is a good place to stroll and admire the spectacular colonial architecture of the Church of San Francisco.
4. INDEPENDENCE SQUARE
A lovely square surrounded by cathedrals and government buildings, and … one of the few places in the world where you can greet the president of the country! Yes, that's right: President Rafael Correa greets his people from the presidential balcony every Monday at 11 a.m.
5. THE CHURCH OF JESUS COMPANY
If you think the outside of this church is spectacular, you should pay the entrance fee to admire the fine work of the interior. There, all that glitters is gold!
6. LA MARISCAL
Not everything in Quito is colonial cathedrals and streets, is it? Visit the neighborhood of La Mariscal to find modern shops, animated bars, restaurants and lively nightlife. If you are planning to do some hiking, you'll find lots of good shops equipped with top material in this area.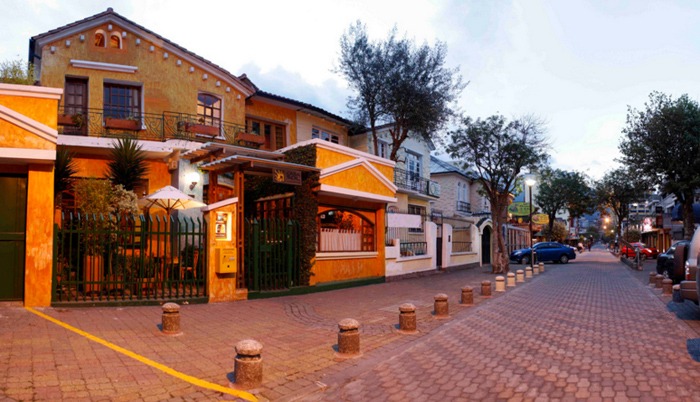 7. MITAD DEL MUNDO – HALF OF THE WORLD
As the name suggests, this country is located on the equator. Visit this monument where a line on the floor exactly defines this parallel, 13 kilometers north of Quito. It's not an awesome place, but you can rest each foot in a different hemisphere and … well … that doesn't happen every day.
8. HIKE THE RUCU PICHINCHA
The hike to the Rucu Pichincha volcano, at 4,784 meters, is a simple route that doesn't require great physical condition or significant experience. If you are training for more serious mountains, it can be a good starter in your plan of acclimatization.
A cable car gets you to the first viewpoint; then you can walk for about 3 hours to reach the top. There, you'll have a great view of the entire city with the great Cotopaxi volcano in the background.
9. COMPLETE A MORE ADVENTUROUS HIKE
Ecuador offers lots of top-rated mountain trails for all levels. Complete the Quilotoa loop around a beautiful lake formed in the crater of a volcano or tackle more serious adventures like hiking North Iliniza or climbing the great Cotopaxi volcano.
10. TRY SOME LOCAL FOOD
Would you like to try strange and exotic food? I don't know if you ever had a "cuy" or guinea pig as a pet, but in Ecuador, it's one of the typical dishes you can taste. Although it took me a while to decide (as I actually did have a few of those as pets), I have to admit it's delicious.
TIPS DURING YOUR STAY. BEST THINGS TO DO IN QUITO
SECURITY
Quito is not a dangerous city, but as with most large cities, you must take some care. Avoid walking through the historic center at night. The neighborhood of La Mariscal is quite safe in general.
The city tram is fast and efficient, but you can really get like sardines in a can at peak times. This is a favorite moment for pickpockets, so keep an eye on your belongings.
TAXIS
Always negotiate the price of the taxi before taking one, as most of them don't want to set the taximeter at the start of the journey and may overcharge you.
TRAVEL INSURANCE
I highly recommend that you get a good insurance policy before you visit the country. Trusted by thousand of adventurers, World Nomads is one of the best and more reliable options (without breaking your bank).
---
---
Did you like The best things to do in Quito Ecuador? Leave a comment!
Some of the links in this post are affiliate links. This means that if you book or buy a service, I'll earn a small commission at no extra cost to you. I only link to stuff I love.
Hi, I'm Miguel; Adventure traveler, scuba diver and hiking lover. I have been traveling the world for the last 12 years and I hope my experiences, photos and hiking routes inspire you to travel the world too.