Salvador de Bahia, the first capital of the Portuguese Empire and currently the third most populated city in Brazil, is an enclave of unquestionable beauty.
Did you know that the state of Bahia has the largest black population in the world outside Africa? It was one of the largest slave ports on the new continent, and you can feel that presence on every corner.
If you've been to Portugal, you'll also notice the city's great resemblance to Lisbon in its architecture and steep slopes. The European style is mixed with a distinct African influence, mysticism and tropical flavor. Salvador is a must-visit on any trip through the Brazilian Northeast, offering dream beaches, colonial streets, beautiful churches, and nights of dance, percussion and fantasy.
If you are traveling to Morro de São Paulo, Chapada Diamantina or Itacaré, I recommend that you take a few extra days to explore this beautiful city because… you know what? You won't want to leave!
TOP 10 BEST THINGS TO DO IN SALVADOR DE BAHIA
1 – STROLL ALONG THE STREETS OF PELOURINHO
Declared a World Heritage Site by UNESCO, the famous district of Pelourinho (or Pelô, as they call it) is one of the best preserved colonial settlements in all South America. Its cobbled streets and colorful houses will impress you as you step into this place full of tradition and history.
Don't miss a walk around Terreiro de Jesus and Largo do Pelourinho, where you'll find Jorge Amado's museum, "Fundação Jorge Amado". If you prefer to explore the city with a certified guide, you can check out this Salvador City Tour.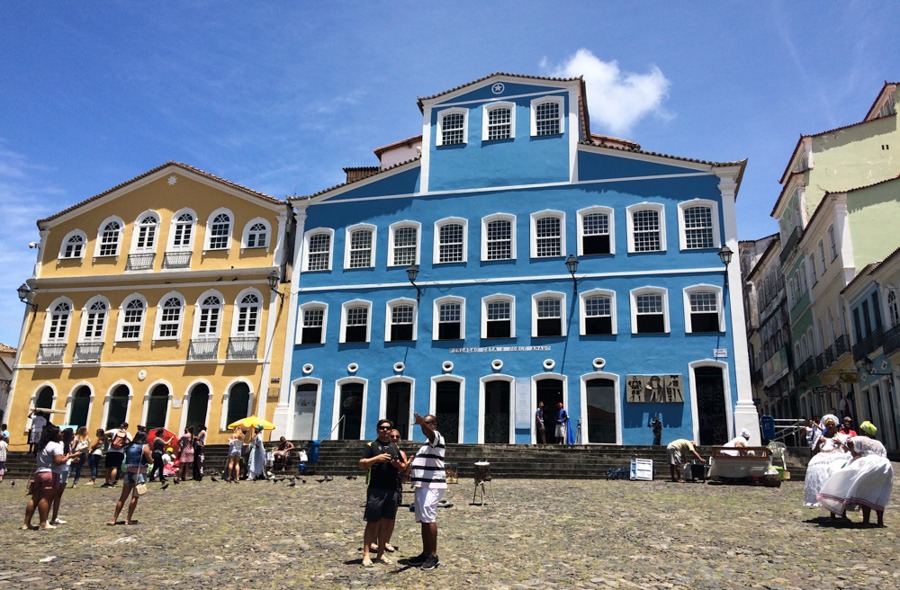 2 – ENJOY A NIGHT OF PERCUSSION AND DANCE
Every Tuesday, Olodum (or similar bands) takes over the streets of Pelô to dance and parade to the rhythm of the drums. The music begins at around 7:00 pm in front of the Jorge Amado Museum. Then, the musicians walk through the streets of Pelô performing a unique Afro-Brazilian show.
This spectacle usually gets crowded with tourists, and pickpockets take the opportunity to get up to their old tricks. Be aware of your belongings, and take only a few bucks to get some drinks.
3 – TRY ACARAJÉ AND AÇAI
Bahian food, with a strong African taste, is one of the most representative cuisines in the country. Acarajé is a kind of bun made with beans, fried in palm oil, and accompanied by shrimp and a rather spicy sauce.
Açai (just thinking about it, I'd like to have one) is a kind of ice cream made from the açai fruit and served with granola and banana. It's hard to describe, but it's delicious. You should try one!
4 – TAKE THE ELEVADOR LACERDA AND VISIT MERCADO MODELO
The Elevador Lacerda is the most representative Art Decó icon in the city and another emblematic place you can't miss. Built in 1873 to connect the low neighborhood with the high neighborhood, it was the first urban elevator in the world.
The ride costs only a few cents and leaves you in front of Mercado Modelo. Formerly, this market was a very important center of supply in the lower part of the city. Today, it's a place to buy souvenirs. I recommend that you pay a visit, more for its history and architecture than for all the trinkets sold inside.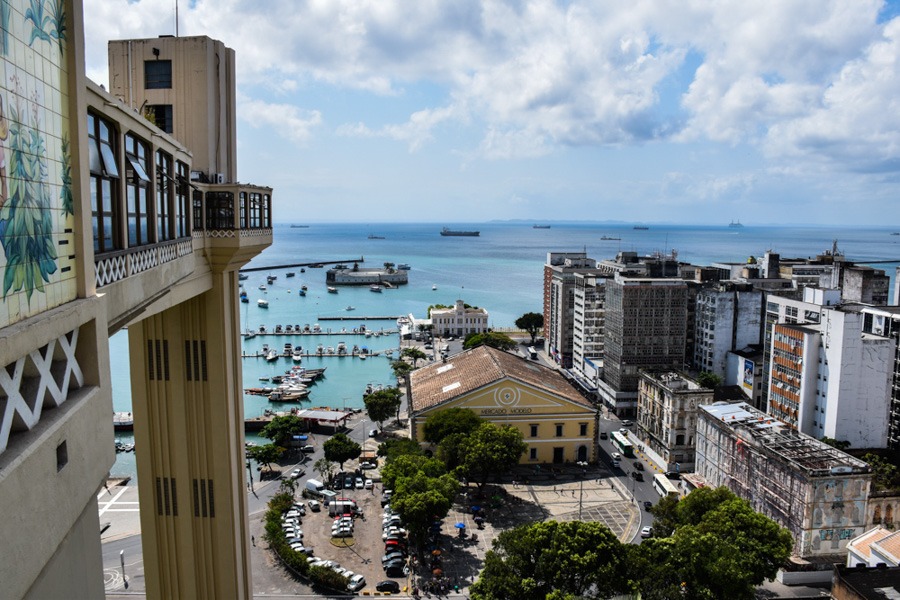 5 – LEARN CAPOEIRA
Capoeira, an amazing martial art that the slaves started to practice as a form of training, has its origin in Bahia. You will find capoeira shows in several parts of the city, especially Terreiro de Jesus.
If you want to learn capoeira, I recommend that you contact one of the many schools found all over the city. For that, you will need to remain in Salvador for a few weeks, as most schools charge by the month.
If you simply want to learn some basic steps, talk to the capoeira guys in Terreiro de Jesus. They are used to working with tourists, and can teach you the basics. Ask for "Negro Drama." He is a cool guy and a good capoerista.
6 – VISIT SAN FRANCISCO CHURCH
The Church and Convent of San Francisco is one of the most imposing temples in the country. Its ornate baroque interior is covered in gold, while the convent's court is decorated with tiles brought directly from Portugal. Its big façade, along with a huge cross decorating the access square, create one of the most classic images of the Pelourinho.
7 – ASK FOR A WISH IN NOSSA SENHORA DO BONFIM
Built in a neoclassical style, with a rococo facade, the Church of Nossa Senhora do Bonfim is a preferred place for the most superstitious Christians. There, you can tie ribbons and ask for wishes.
When you get a ribbon, tie it to one of the bars in the entrance and make three knots to fix it. Every time you create a knot, make a wish. Whether the wishes are fulfilled is difficult to say, but hey, you don't lose anything by trying.
8 – ATTEND A CANDOMBLÉ MASS
Candomblé is a religion that mixes African beliefs, indigenous rites and Catholicism. It's based in the worship of the orixás, associated with different natural elements (water, lightning, fire, jungle, etc.). Masses are characterized by drums, songs and dances, and also by food and the burning of incense.
The orixás can even manifest in the people who are present, creating a strong atmosphere of mysticism and spirituality.
9 – VISIT THE BEACHES IN BARRA
The city offers several beautiful beaches. However, some are a little farther away from the city center. The nearest and most popular beaches are in Barra.
Praia do Porto da Barra is undoubtedly the favorite among locals. This beach is quite small and overcrowded, although the atmosphere is fun, with many choices of food and drink.
Praia do Farol da Barra, a few minutes' walk away, is much larger and more relaxed. Personally, I prefer this beach because there is always room to leave your things with plenty of space around.
10 – WATCH THE SUNSET AT THE LIGHTHOUSE
A visit to Farol da Barra is a lovely way to finish your evening. You can get there when you are done at the beach (as it is located in the same neighborhood) and watch an unforgettable sunset over Todos los Santos Bay.
SOME EXTRA ACTIVITIES IN SALVADOR:
1 – SAN ANTONIO
Right next to Pelourinho, you'll find the neighborhood of San Antonio. If you walk up Ladeira do Carmo (just after Largo do Pelourinho), you will reach a small square with a virgin in the center of the roundabout. Some decent bars and restaurants are on the square and down the street. It's a nice, less touristy part of the city.
2 – RIO VERMELHO
Lately, Rio Vermelho has become quite fashionable among visitors. It's one of Salvador's bohemian neighborhoods, where you'll find good restaurants, hostels and a super-lively nightlife.
3 – SHOPPING
If you want to buy clothes or presents beyond the souvenirs of Pelourinho and Mercado Modelo, visit the commercial area of ​​Lapa, where you'll find several shopping malls and cheap clothing stores. Barra stands out for its more expensive shops and a huge, fashionable mall.
4 – FAVELA PROJECTS
If you get out of the touristy areas, you will notice that Salvador is literally surrounded by favelas. Some are safer than others, but generally they aren't places to visit on your own. However, if you have the opportunity to go with a local or visit an NGO, the experience can be very rewarding.
TRANSPORT. HOW TO GET AROUND SALVADOR
SUBWAY
Although Salvador has a metro system, it doesn't go to any places of tourist interest. Therefore, most visitors don't take the metro during their stay in the city.
BUS
The buses reach practically every neighborhood in the city. A line connects Pelourinho with Barra, facilitating access between the beaches and the colonial quarter. It's safe, and you can pay the driver directly without needing a special card. The only problem is the frequency (every 30-40 minutes).
UBER
Uber works like a charm in Salvador, and the rides are quite cheap. It's a good option for moving around the city, especially when traveling in small groups.
FERRY
A ferry service connects Salvador with Bom Despacho, on Itaparica Island. The ferries depart every 30 minutes from the port next to Feira de São Joaquim. It costs about two dollars and the journey takes only 40 minutes. If you are traveling to other destinations in the south of Bahia, such as Ileus or Itacaré, you'll first need to arrive in Bom Despacho, from where the buses leave.
SECURITY TIPS IN SALVADOR
Salvador is not the most dangerous city in Brazil. However, robberies are frequent, so you have to be careful. In addition to always taking taxis at night, I recommend that you take extra care in Pelourinho once it gets dark.
Despite being the most touristy place in the city and having police control, there are some robberies in the area. The main problem is that, except for Tuesdays (when percussion parties are held), the streets of the colonial quarter are practically empty at night, and bandits seize the opportunity to fleece tourists.
OTHER PLACES YOU CAN VISIT IN BAHIA
1 – CHAPADA DIAMANTINA
Without a doubt, this is my favorite national park in Brazil. Chapada Diamantina is simply spectacular. Check out this guide to explore the best secrets of Chapada.
To get there, you can take a night bus to Lençois (seven hours) or continue to Palmeiras (one more hour), then take a local van to Vale do Capão (another hour). Don't miss the Vale do Pati Trek.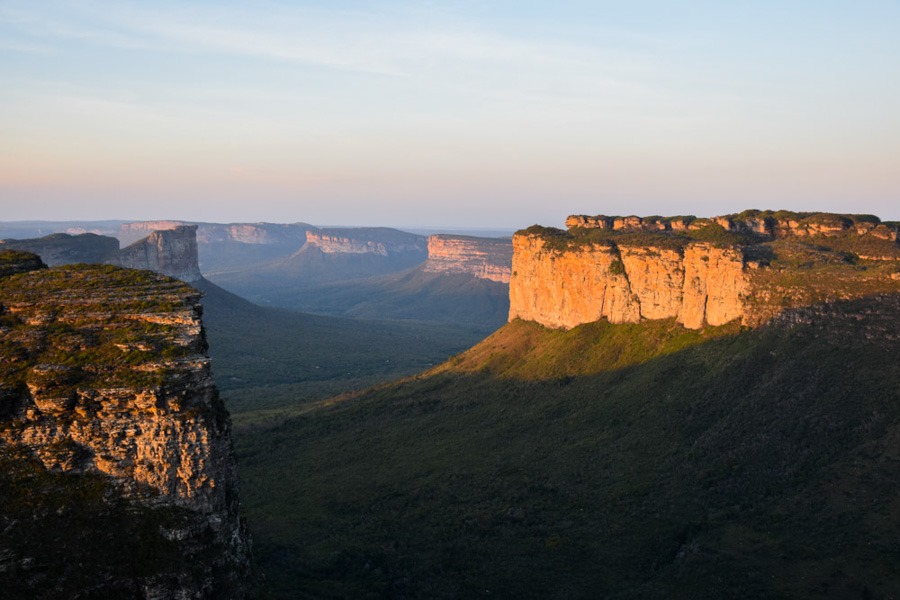 2 – ITACARÉ
If you are looking for beautiful beaches, great nightlife and good surfing, Itacaré should be your next destination. In addition to the beaches near the village, there are several tracks to access beautiful, wild places.
The beaches in Itacaré are not those of white sand and turquoise water. They are surrounded by steep mountains with wild rainforests all around. They are really pretty!
The bus from Bom Despacho takes about five hours to reach Itacaré.
3 – PRAIA DO FORTE
What was once a quiet fishing village is now a popular holiday destination. Praia do Forte is a pleasant place for strolling along colonial streets and visiting the sea turtle recovery project. In addition, the region has some spectacular beaches.
The trip from Salvador takes about two hours.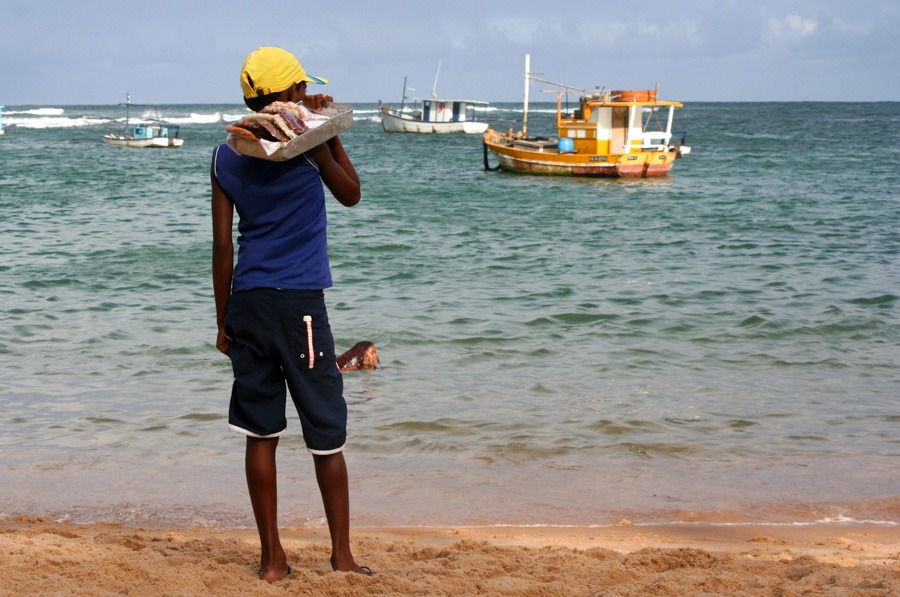 4 – IMBASSAI
If you stay on the bus an hour farther north from Praia do Forte, you will arrive in Imbassai. This is a quiet village with well-kept inns, some bars on the river bank and a relaxing atmosphere.
5 – MORRO DE SÃO PAULO
Probably the most touristy destination in the whole Bahia State, Morro is characterized by its beautiful beaches and endless parties. It's very popular among Argentines, to the point that you'll hear more Spanish than Portuguese!
If you want to get there on a budget, take the ferry to Bom Despacho, continue by bus to Valença and take another ferry to Morro. If you want to avoid all the hustle, a direct boat leaves from Mercado Modelo in Salvador, although it's much more expensive.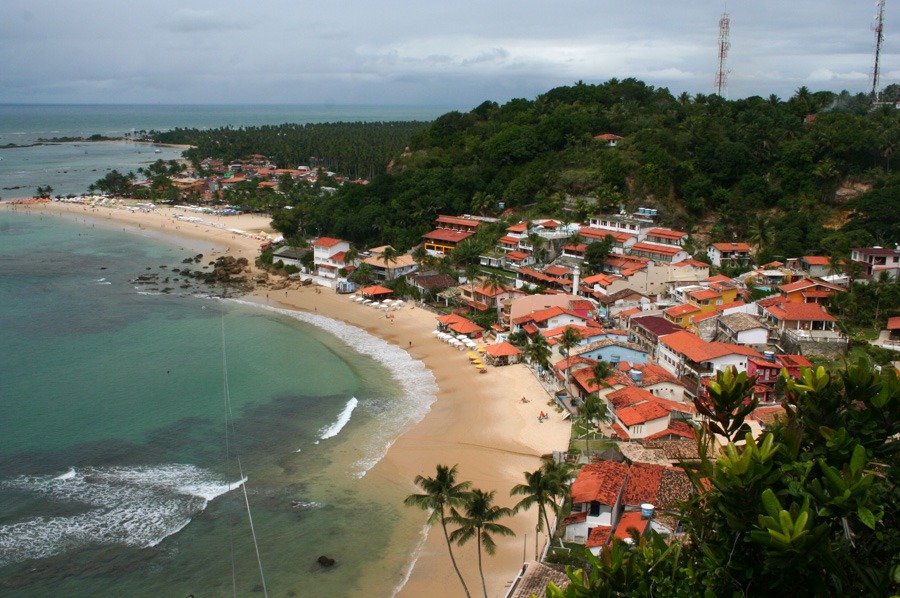 WHERE TO STAY IN SALVADOR
Hostels in Pelourinho usually cost about 25-30 reais for a shared room. Rio Vermelho is becoming quite popular among backpackers, although the options are somewhat more expensive.
I've always stayed at Açai Hostel, which has an incredible atmosphere. It's well located in the Pelourinho and most guests go out together to explore the city and party. I highly recommend it!
If you prefer staying in Rio Vermelho, I have heard good things about The Hostel Salvador, although I personally haven't stayed there.
TRAVEL INSURANCE
If you are exploring Bahia, I recommend that you get a good insurance policy so that you can travel with peace of mind. If you are looking for professional insurance at a good price, World Nomads offers some of the best coverage on the market.
---
Next Read: The Best Hiking Trails in Rio de Janeiro
---
Did you enjoy The Best Things to Do in Salvador de Bahia, Brazil? Leave a comment!
Some of the links in this post are affiliate links. This means that if you book or buy a service, I'll earn a small commission at no extra cost to you. I only link to stuff I love.
Hi, I'm Miguel; Adventure traveler, scuba diver and hiking lover. I have been traveling the world for the last 12 years and I hope my experiences, photos and hiking routes inspire you to travel the world too.