Ladakh, the Indian region where cultures merge and the mountains rise up to touch the sky, is a magical place that will make you feel free, where the air is pure and the rivers run deep.
Known as Little Tibet, the thousands of refugees who live here will make you forget you are in India. The eyes of its people are soulful, buddhist monasteries replace Hindu Temples, and Monks replace gurus.
Discover this region that can't be compared in beauty and tradition, and you'll fall in love with this country again.
What to do and see in Ladakh
1. THE PALACE OF LEH
The capital of the region shows beauty in every corner. The ocher colour of the homes camouflages between the mountains, and the prayers of the temples create a surreal atmosphere. There's a great community of Tibetan refugees, all mixed with many Muslims who look more Pakistani than Indian.
Inspired by the Potala Palace in Lhasa, the Royal Palace in Leh is at the top of the city, and it has a beautiful panoramic view. If you go up, take it easy, the city of Leh is at 3,500 meters high and the Palace at 3,800, so I recommend a day of acclimatization before getting there.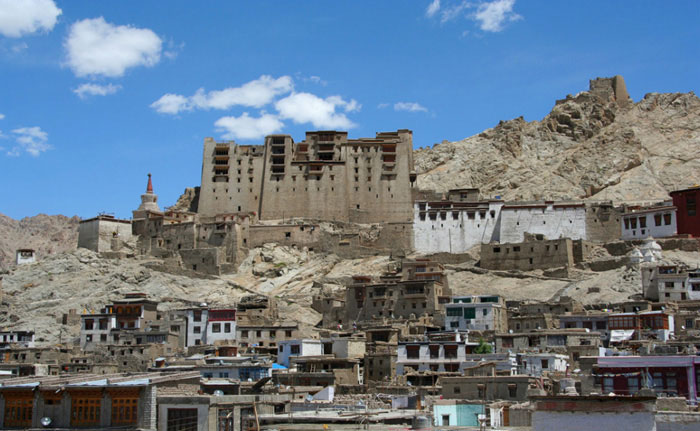 2. THE NUBRA VALLEY
Also known as the valley of flowers, it's a beautiful place to admire on your way to the highest road pass in the world, the Khardung La. I recommend hiring a tour that allows you to come up here on a Jeep and bike down to Leh. An adventure where the adrenaline willl pump out of every pore of your body, where the curves are closed and the cliffs are terrific.
3. THE ZANSKAR VALLEY
Come to this beautiful, remote region with stunning views of huge ravines and isolated temples along a great river. This area is closed to traffic most of the year due to heavy snowfall, but the most adventurous can take the winter trekking over the frozen river.
4. MONASTERY TIKSEY
In addition to a monastery, it's also a museum where you can admire precious Buddhist paintings and engravings, and learn about this ancient culture. It features a large figure of Buddha painted in gold, that will leave you spellbound.
5. THE MARKHA VALLEY TREK
If you love mountains and adventure, you can't miss the Markha Valley Hike.
This route takes you through stunning scenery, snowy mountains, isolated villages, exceptional people, frozen rivers, ancient monasteries and unique experiences. Without a doubt, the best thing I did in all my time in India along with the visit to the holy city of Varanasi.
6. SHEY MONASTERY
Located a few kilometres from the town of Leh, this monastery was once the residence of the royal family. Besides having several religious structures and ornaments, it's famous for the huge statue of Buddha in its interior.
TRAVEL BUDGET. WHAT TO DO IN LADAKH
ACCOMMODATION
During my stay in Leh, I stayed in the Babu Guest House: 4 dollars for a basic room with breakfast, great views of the Palace and super friendly staff.
If you do the Markha Valley Hike, I recommend staying in family homes in the villages. It's cheap and better than the campsite, as it allows you to live with them and gain a authentic insight and experience.
---
TRANSPORT. HOW TO GET THERE
Air transport is active throughout the year, especially flights from New Delhi.
If you plan to come by bus, please note that the road from Manali is closed from October to April due to heavy snowfall.
The Delhi – Leh bus, takes about 35 hours to travel just over 1,000 km and the price is about 1,300 rupees.
---
FOOD AND DRINK
The normal food of Ladakh has more in common with Tibetan food than with Indian.
Main courses are Thukpa; a noodle soup, Momos; empanadas with meat or vegetables more typical of Tibet, or Tsampa; a flour dough that I personally find quite tasteless. With the exception of Tsampa, the rest is pretty good.
The most characteristic drinks of the mountains are Yak milk tea, which I find quite terrible and Chang; a fermented cereal and not too dreadful.
TRAVEL INSURANCE
I highly recommend that you get a good insurance policy before you visit India. Trusted by thousand of adventurers, World Nomads is one of the best and more reliable options (without breaking your bank).
WHEN TO GO:
In general, the best time to visit the area is from June to September, where the weather is not so cold, the roads are clear and the other provinces of India are virtually flooded by the monsoon.
TIPS FOR VISITING LADAKH
EQUIP YOURSELF WELL FOR THE MOUNTAIN
If you do the Markha valley hike without a guide, make sure you have a map and always go with some friends.
---
ALTITUDE SICKNESS
It's a very high region, so relax and take a few days to acclimatize before moving up. If you feel a headache, lack of appetite, red eyes or other symptoms, get down a few hundred meters. For more detailed info about High altitude sickness.
---
THE BIKE TOUR DESCEND FROM THE KHARDUNG LA
Keep in mind that there are some cliffs with hundreds of meters fall on the side, but well, going fast is also part of the adrenaline, so just enjoy!
---
SAFETY
Don't worry, despite being a region with bad press due to political tensions, crime and theft are virtually non-existent.
---
---
Did you like What to do and see in Ladakh? Leave a comment!
Some of the links in this post are affiliate links. This means that if you book or buy a service, I'll earn a small commission at no extra cost to you. I only link to stuff I love.
Hi, I'm Miguel; Adventure traveler, scuba diver and hiking lover. I have been traveling the world for the last 12 years and I hope my experiences, photos and hiking routes inspire you to travel the world too.