Explore one of the most impressive regions of the Chilean Patagonia and hike the famous Torres del Paine W trek!
The truth is that Patagonia is a unique place in the world! Its nature is just amazing, wild and hostile with very strong winds and cold rains. You can be walking through a barren "pampa" and suddenly find yourself in front of great mountains rising to the sky.
Huge cliffs dominate the landscape among rivers and lakes, while legendary glaciers keep eroding this precious land of fire colors. Patagonia is just that amazing!
After hiking a few routes in El Chalten (Argentina) we wanted to visit the other classic spot of the southern trekking: the Torres del Paine W circuit!
Important note:
We went there at the end of the season, when some camping areas were already closed and other parts of the hike were difficult to reach due to the heavy snow. Therefore, we could not complete the entire W. Under other circumstances, though, there would be no problem hiking the entire W circuit.
Details of the W route
Total distance: 70 km
Time: 6-7 days
Difficulty: Moderate
Maximum Elevation: 1,100 meters
Our route:
Day 1: Laguna Amarga – Camping Torres
Day 2: Camping Torres – Camping Italiano
Day 3: Camping Italiano – Camping Paine Grande
Day 4: Camping Paine Grande – Camping Las Carretas
Day 5: Camping Las Carretas – CONAF Administrative Headquarters
MAP
Day 1: Laguna Amarga – Camping Torres
The first day of hiking you will quickly feel the magic of the place you are visiting. This was a path without technical difficulty along a beautiful valley, decorated with autumn colors and great condors flying over the place.
At the end of the valley we reached Camping Torres, where you can camp without paying. The famous towers were not far from the campsite but the sky was pretty cloudy, so we decided to sleep and wake up early the next day to enjoy the sunrise over the towers.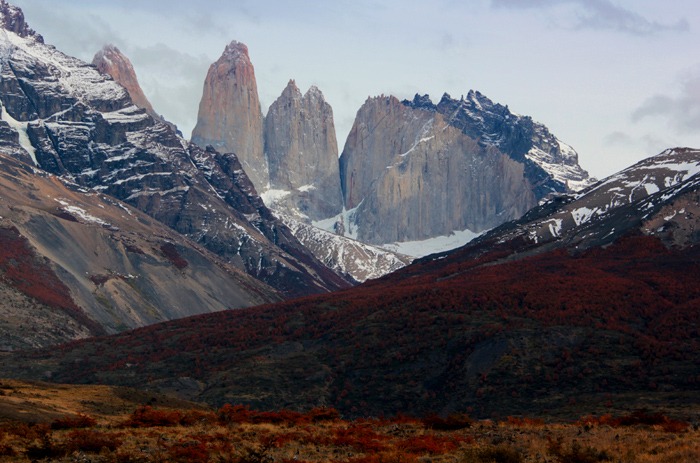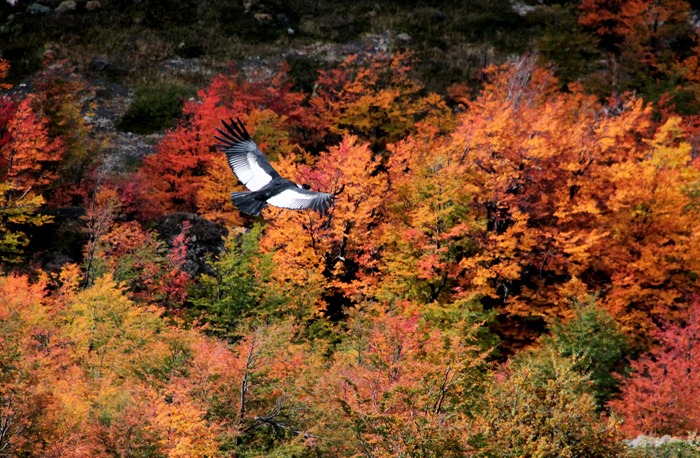 Day 2: Camping Torres – Camping Italiano
After walking an hour or so on a steep and rocky path, we reached the main attraction of the trail: the beautiful Torres del Paine. The sunrise was stunning, the colors were changing all the time, so the mountain ridges were turning pink, yellow and orange while the visitors enjoyed a magical place. Simply spectacular!
After the sunrise, we went back to the campsite to pick up our things and continue to the next camp: Camping Italiano. This route runs close to "Los Cuernos del Paine", which is another spectacular place.
The famous view of "Los Cuernos del Paine" cannot be seen from this path, but from the viewpoint "Los Cuernos", on the other side of Lake Nordenskjold.
Day 3: Camping Italiano – Camping Paine Grande
After a "fun" night dealing with wild mice so that they couldn't get into the tent and eat our food (at that time there was a huge plague of mice), we took the path up to the French valley, trying to keep on the W route.
Unfortunately, the weather was horrible; it was snowing quite a bit and the road was difficult to follow, so we decided to turn back. That day we reached the Paine Grande campsite.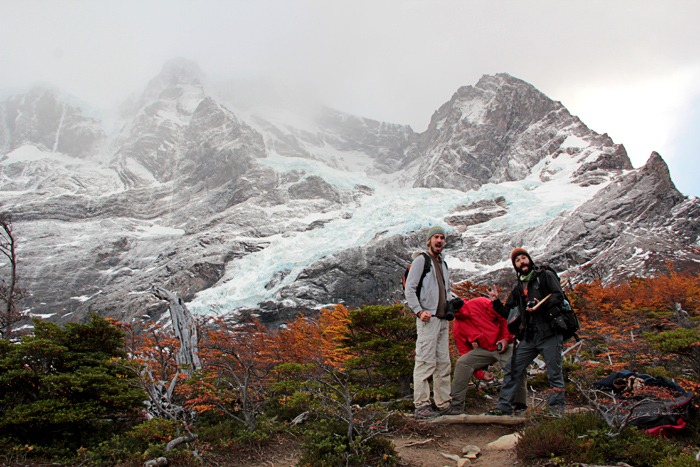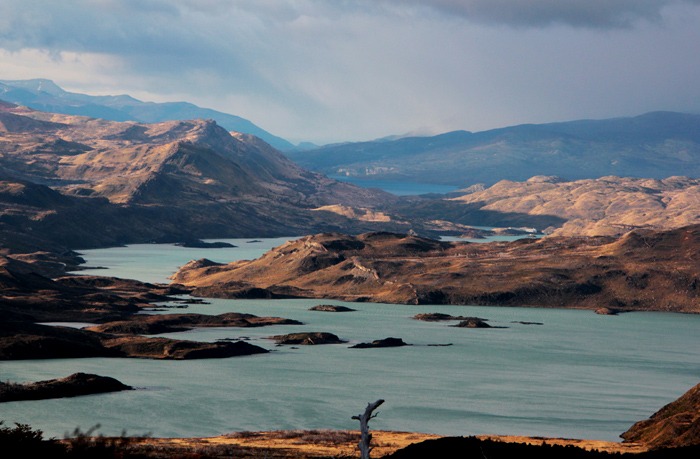 Day 4: Camping Paine Grande – Camping Las Carretas
Camping Grande is a private campsite, so we had to pay to pitch our tents. The good news is that you have access to a nice kitchen, bathrooms with hot showers and other amenities that can make you happy after a few days of cold and dirt.
Then we were told that Camping Frey was closed, as it was the last weekend of the season, so we had to cancel that part of the trek and continue walking through the "pampa" to reach Las Carretas campsite. This way, we avoided taking the private boat that crosses Lake Pehoé.
Day 5: Camping Las Carretas – CONAF Administrative Headquarters
The last day of the hike we decided to climb a nearby hill and enjoy spectacular views of Los Cuernos del Paine. In the beginning, the trail was quite marked, but close to the viewpoint it was difficult to follow, so I think we walked off the main trail, which is forbidden… But I promise we didn't do it on purpose!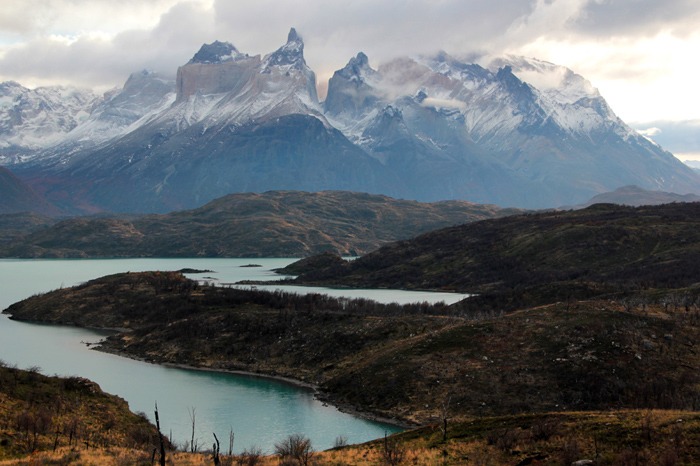 BUDGET
PARK ADMISSION FEE:
18,000 Chilean pesos
CAMPING WITHOUT PAYING EXTRA:
The facilities in these campsites are minimal, but they have toilets, water, etc. The park has the following free campsites:
– Camping Torres
– Camping Italiano
– Camping Paso
– Camping Las Carretas
PAID CAMPSITES:
There are two types of paid campsites: the private ones where you can find showers, bathrooms and a place to cook and the private ones next to a lodge that also offer access to a restaurant, mini-market, etc.
Most of them charge between 8,000 and 10,000 pesos.
– Refugio Paine Grande
– Campamento Francés
– Refugio Los Cuernos
– Refugio Chileno
– Campamento Serón
– Refugio Dickson
– Campamento Los Perros
– Refugio Grey
PRIVATE REFUGIOS (LODGES)
For those who want to enjoy comfortable beds and other amenities, there are a few lodges in the park. The price is $ 50 per person in a dormitory. I know… pretty expensive!
HOW TO GET TO TORRES DEL PAINE TREK
You can buy a bus ticket either in your hostel or right at the bus terminal. The return ticket costs about 16,000 pesos. It's an open ticket so you can go back to Puerto Natales on any day once you have finished your route.
Buses leave from Puerto Natales at 7.30 and 14.30 and it takes less than 3 hours to reach the park.
The same bus can pick you up from any of the three bus stops and then return to Puerto Natales. Buses leave at 13.00 from CONAF, 13.30 from Pudeto and 14.30 from the entrance. The evening bus leaves from the same places at 18.00, 19.00 and 19.45.
TRANSPORTATION WITHIN THE PARK
A boat crosses Lake Pehoe, connecting Pudeto with Refugio Paine Grande. The price is 25,000 pesos for one way and 35,000 for a return ticket.
For those who do not want to walk much, there is a minibus connecting the park entrance with the Hotel Las Torres for about 3,000 pesos.
ACCOMMODATION IN PUERTO NATALES
I loved this place in Puerto Natales: La Bitacora
TRAVEL INSURANCE
I highly recommend that you get a good insurance policy before you visit the country. Trusted by thousand of adventurers, World Nomads is one of the best and more reliable options (without breaking your bank).
FOOD
We brought all our food and cooked by ourselves, but the Refugios can provide meals at pretty prohibitive prices. Some of them have mini-markets where you can buy some candy bars, instant soups, beer, cookies, etc.
Don't worry about drinking water, as you will find a lot of streams throughout the hike.
WEATHER. WHEN TO HIKE THE TORRES DEL PAINE W TREK?
The best season for hiking the Torres del Paine W Trek is usually spring / summertime, between November and May. After the last weekend of April the park shuts down some campsites and shelters, while the bus services stop.
In any case, Patagonia is a land of hostile weather, so you can expect almost any conditioins during any season. Strong winds are continuous throughout the year and can be especially cold in winter.
RECOMMENDED GEAR
Check out
the Ultimate Hiking gear list and don't forget anything important during your Patagonian expedition!
TIPS FOR HIKING THE TORRES DEL PAINE W TRAIL
MICE PLAGUES
We found a lot of mice in some camping areas but I hope that was something unusual. It's difficult to keep your food in a safe place. If you leave it inside the tent, the mice will make a hole and get in. If you leave your food hanging from a tree, the mice will climb and get it.
If you think there are mice around, a good solution is to keep your food in a pot face down on the floor and place a heavy stone on top of it. But who knows, those bastards are capable of anything!
BRING WARM CLOTHES
Keep in mind that the weather can change quickly and a nice blue sky can become a cloudburst in a few minutes. Bring some good clothes, a waterproof jacket, a hat, gloves, etc.
BOOKING ACCOMMODATION
If you want to book your accommodation in one of the Refugio lodges during the peak season, you'll need to do so well in advance. You can book it here:
BE CLEAN!
It is very important to collect all your garbage and try to leave the place just like you found it.
---
---
Do you have any question about Hiking Torres del Paine W Trek? Leave a comment!
Some of the links in this post are affiliate links. This means that if you book or buy a service, I'll earn a small commission at no extra cost to you. I only link to stuff I love.
Hi, I'm Miguel; Adventure traveler, scuba diver and hiking lover. I have been traveling the world for the last 12 years and I hope my experiences, photos and hiking routes inspire you to travel the world too.