Dear fellow adventurers: Traveling the Caribbean on the cheap is possible. I want to be honest, though; it's not easy, as it depends on your skills and how you plan the trip. However, by following a few recommendations, you can travel these beautiful islands on a budget.
Imagine dipping your feet into crystal-clear water, swimming with green turtles and camping on deserted beaches without spending a fortune.
Learn how to travel backpacking the Caribbean on the cheap!
Which are the cheapest Caribbean islands? Which islands should I visit?

This is one of the main factors you must consider because the differences in price (particularly in accommodation) between islands can be huge.
I'm going to talk about the islands we visited, and I will indicate the average budget we spent per day and per person (including food, lodging and transportation).
Backpacking in Trinidad and Tobago. $ 17 / day
Trinidad and Tobago were the first two islands we visited on our way from Venezuela. It's a country with a strong Rastafari culture and I would say, the friendliest people in the Caribbean. The beaches, however, are not impressive.
Trinidad is a pretty crowded and frenetic island with some spectacular scenery, including cliffs and tropical forests. Tobago is really laid back, with lots of Rastafarians, green landscapes and nice beaches. Travel guide to Trinidad and Tobago
Backpacking in Grenada. $ 18 / day
Grenada's capital, Saint George, is one of the most beautiful British colonial cities in the Caribbean. Personally, I love the small island of Carriacou, located a little farther north, where some beaches will take your breath away. Travel guide to Grenada
Backpacking in Saint Vincent and the Grenadines. $ 25 / day
Here it starts getting a little more expensive because there are some must-do tours (such as the visit to the Tobago Cays), and that costs a little more. Moreover, there are not many places to camp.
I have to say that I found this country to be really amazing in terms of beautiful beaches and great landscapes. Travel guide to Saint Vincent and the Grenadines.
Backpacking in Barbados. $ 15 / day
Although this is one of the most expensive islands in the Caribbean, we managed to spend very little here because we used Couchsurfing and didn't explore many places.We loved the island and had a very good time, but I wouldn't recommend it for backpackers on a budget. Most of the beaches are lined with Top End hotels and private villas, and everything is really expensive. However, there are several reasons to visit Barbados! The food is great, the people are super friendly and the scenery is beautiful!
Backpacking in Dominica. $ 15 / day
Dominica is a bit cheaper than the neighboring islands and although it doesn't have spectacular beaches, in my opinion no other island can beat Dominica's nature, with its spectacular waterfalls, rivers and mountain hikes. The island is investing efforts in ecotourism to protect its untamed wilderness. Travel guide to Dominica.
Backpacking in Martinique. $ 18 / day
Because Martinique is part of France, it's logical to expect that accommodation will be quite expensive here. However, there is an inexpensive campsite south of the island where you can spend a few days in front of a nice beach, and prices in the supermarket are quite reasonable. Travel guide to Martinique.
Backpacking in Puerto Rico. $ 25 / day
San Juan is a really vibrant city to spend a few days. The colonial streets, churches and fortifications are really impressive. Plus, if you want to improve your Salsa steps before you leave the Caribbean, this is the right place.
The nearby islands of Culebra and Vieques have top-rated beaches and camping options. Travel guide to San Juan.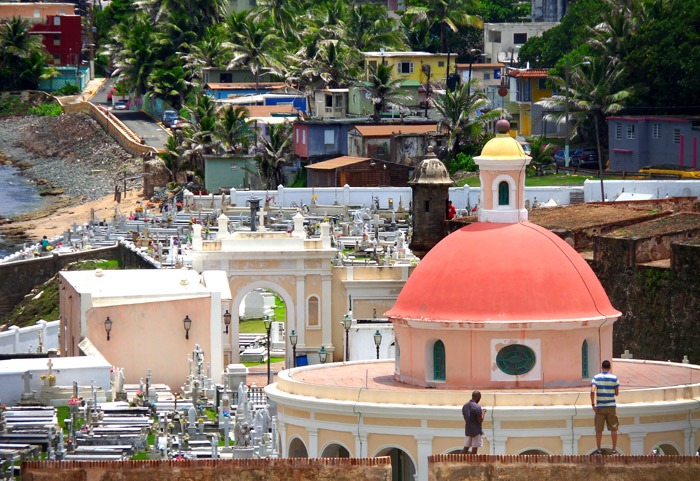 Cheap accommodation in the Caribbean. Where to sleep?
Sleeping on the beach
Definitely the cheapest of all options. It is possible to find quite a few beaches where you can camp without paying.
I recommend the beaches of Castara and Charloteville in Tobago, Anse la Roche in Carriacou and the small island in front of Ashton in Union Island. These places seemed safe to me. When in doubt, ask the local people where they'd recommend you camp.
Campsites
Although not a popular option, you will find a few campsites, where you'll sleep safer for a reasonable price.
I recommend the campsite of Blanchisseusse in Trinidad (100 TT negotiable per night), where you can also see huge leatherbacks during the right season. In addition, I recommend the campsite of Sainte Anne in Martinique (12 euros per night) and the campsite of Flamenco beach on Culebra, Puerto Rico ($ 30, also negotiable).
Cheap Hostels
The choice is quite limited. I tried to use Couchsurfind a lot. However, I stayed in hostels too. These are some options that I can recommend.
Saint George's, Grenada: Cosy Hut.
Victoria, Grenada: Kim's Farm. If you contact him through Couchsurfing, you'll get a really good price.
Scarborough, Tobago: Anns' Villa.
Union, Saint Vincent: T.j Plaza Guest House. Ask the locals, they know the place.
Roseau, Dominica: Anthurium Apartment.
Airbnb
A good option for couples and groups, with rooms and apartments at great prices. There are a lot of good (non-expensive) options in the Caribbean. If you sign up through my link, you will get $35 of Airbnb credit!
Couchsurfing
In my experience, couchsurfing works really well throughout the Caribbean. We used this option on almost every island and I think it's one of the most important keys to saving money. In addition, it's a great way to meet either locals or expats living there who can give you good tips.
Read: Couchsurfing 101. The Ultimate Guide , by my friend Will, The Broke Backpacker.
Where to eat cheap while backpacking the Caribbean
Local products
It's always cheaper to buy products in local markets, particularly fruits and vegetables. Most of the manufactured products are imported from the U.S. or Europe, making them very expensive.
Cheap restaurants
After a couple of weeks of eating bananas and rice every day, it may be time to brighten up your diet a bit. Most of the islands are heavily influenced by Indian food, so there are a lot of Roti shops, which are small restaurants serving Roti, a delicious Indian dish with vegetables or meat which usually costs just a few dollars.
Transport. How to travel within the islands
Local boats
One of the cheapest methods, this option allows you to enjoy the scenery and meet local people at the same time. Unfortunately, not all the islands are connected with regular services, so you can get stuck sometimes.
Ferries
The "Express des Iles" covers the following route: Santa Lucia – Martinique-Dominica – Guadeloupe. These ferries are modern and fast, but on the downside, they are pretty expensive. The price for any ride is 80 euros.
Flights
Flights between the islands are not cheap at all, so try to avoid this option if possible. Most flights cost from $ 150- $200 just for a 30 minute trip. Check out Skyscanner to find the best flight deals.
Hitchhiking sailing boats
If you like adventure, this is a good option – visiting marinas and trying to find someone who can give you a lift in exchange for help. There are several good websites like findacrew or crewbay where people leave their ads looking for either passengers or crew.
Your chances of getting a lift highly depend on the island you are on at that moment and also on the season. I will talk about this in more detail later in "When to travel the Caribbean."
How to get from Venezuela to Puerto Rico, explained step by step. (Based on my experiences)
From Venezuela to Trinidad
There is a kind of ferry from Guiria in Venezuela to San Fernando in Trinidad, operated by a not-very-serious Venezuelan agency. The boat usually leaves once or twice a week.
Ferry Guiria – San Fernando. Galea Global tours. 10,000 bolivars (2015) + $ 50
From Trinidad to Tobago
Daily Ferry: Port of Spain, Trinidad – Scarborough, Tobago. 100 TT
From Trinidad to Grenada
In the marina of Chaguaramas in Trinidad, it should be easy to find a lift to Grenada at almost any time. We found a few lifts, but they were leaving some weeks later and we finally decided to fly so as not to get stuck in Trinidad.
Flight Port Spain – Grenada. 100 euros. Conviasa flies on Sundays.
From Grenada to Carriacou
Ferry Saint George – Carriacou. Amelia boat. 40 EC, Saturday 10 a.m. 4 hours. There are some more boats, depending on the day.
From Carriacou (Grenada) to Union (Saint Vincent and the Grenadines)
"The Obedient" boat leaves every Monday and Thursday. 40 EC per person.
From Union to Saint Vincent
There are different boats covering this route: Union – Mayreau – Canouan – Bequia -Saint Vincent.
Fast boat, "Jade Sun": Monday and Wednesday. Departure: 7 a.m. Price: 110 EC (opposite route on Tuesday and Thursday)
Cargo ship, "Barracuda": Tuesday and Friday. Departure: 9 a.m Price: 75 EC (opposite route on Monday and Thursday)
Cargo ship, "Gem Star": Wednesday and Saturday. Departure: 8 a.m. Price: 60 EC (opposite route on Tuesday and Friday)
From Saint Vincent to the northern islands
This is one of the most difficult parts of the journey as there are no local boats going to Barbados or St. Lucia (which is really close). If you want to find a lift, I recommend you try in Bequia.
We finally flew from Saint Vincent to Barbados and then from Barbados to Dominica. Each flight cost about $ 150 with LIAT Airlines.
From Dominica to Martinique
As we discussed above, the ferry "Express des Iles" covers the route from Saint Lucia to Guadeloupe, so we took this modern boat to get to Martinique for 80 euros.
From Martinique or Guadeloupe to Antigua, Saint Kitts, Sint Maarten, Puerto Rico, etc.
This is another complicated part. The most interesting option would be to get a lift to Antigua or St. Maarten, because flights in this area don't drop below $ 200 per trip.
The marina of Le Marin in Martinique is a good place to ask around. Unfortunately for us, there was a small hurricane in the northern islands when we were in Martinique, so absolutely no one was sailing north. Finally, we decided to buy a flight to Puerto Rico for $ 120 with LIAT.
Flights between Sint Maarten, the Virgin Islands and Puerto Rico are generally inexpensive.
When to travel the Caribbean and how seasons can affect your plans
The hurricane season, which runs from July to November, will condition your trip in many ways. You can check out the Hurricane National Center for the dates of your visit.
Traveling during the high season (December to April)
The weather is much better; sunny days with little rain.
It's potentially easier to find sailing boats between islands.
Prices are higher and some beaches can get quite crowded.
Traveling during the hurricane season (July to November)
It's much easier to bargain the price of accommodations.
You won't find many tourists, which means idyllic beaches almost to yourself.
It doesn't usually rain all the time and almost everyday the sun comes out for a few hours.
The chances to get a sailing boat lift are much smaller.
Finding a lift on a sailing boat
December to May: Easy to find sailing boats going in any direction.
May to August: The north is usually the area most affected by hurricanes, so many people start going down to the southern islands. Most look for a safe place in Trinidad, which is outside the hurricane belt. These are good months to travel the Caribbean if you start your trip in the north islands and go down gradually.
November to February:
During these months, once the hurricane season is over, most of the boats tend to sail back up and explore the north. If you are planning to travel starting from Venezuela or Trinidad, these are the most favorable months.
Tips for backpacking the Caribbean
Onward/return ticket dilemma and possible problems with immigration
Some countries may theoretically ask you for a return ticket. As you probably don't know when you're leaving or where you're going next… who knows? Maybe you are planning to leave the country by boat or whatever… Chances are that you will probably not have a return ticket.
The trick is to make a reservation on the LIAT website, where you can book a ticket without paying. They hold your booking for 24 hours, waiting for payment without charging you anything. Later, they'll send you an email with the booking details. Open that email and change NOT CONFIRMED to CONFIRMED… and everyone is happy! It will work for the immigration officers.
Note: Barbados' "super nice" officers didn't want to let us in the country because our ticket out was leaving for Dominica. According to them, the ticket had to be returning to Europe. Therefore, I recommend that you make one of these fake reservations, either for Martinique or Guadeloupe, because they are part of the European Union. (If you are European, of course.)
Choose wisely which islands you want to visit
Although each island has its unique attributes, many of them share a similar culture, as well as similar music, cuisine and even landscapes. Therefore, I think it's not absolutely necessary to visit each and every island to have a good Caribbean experience.
If your priority is beaches, I'd say to not miss the Tobago Cays in Saint Vincent and Carricou in Grenada. If your priority is hiking and nature, I recommend that you hike to the Boiling Lake in Dominica and La Soufriéere volcano in Saint Vincent. For a strong cultural experience I recommend Trinidad and Tobago, which has a very interesting and unique identity.
---
TRAVEL INSURANCE
I highly recommend that you get a good insurance policy before you visit the Caribbean islands. Trusted by thousand of adventurers, World Nomads is one of the best and more reliable options (without breaking your bank).
---
Would you pin it? Thanks!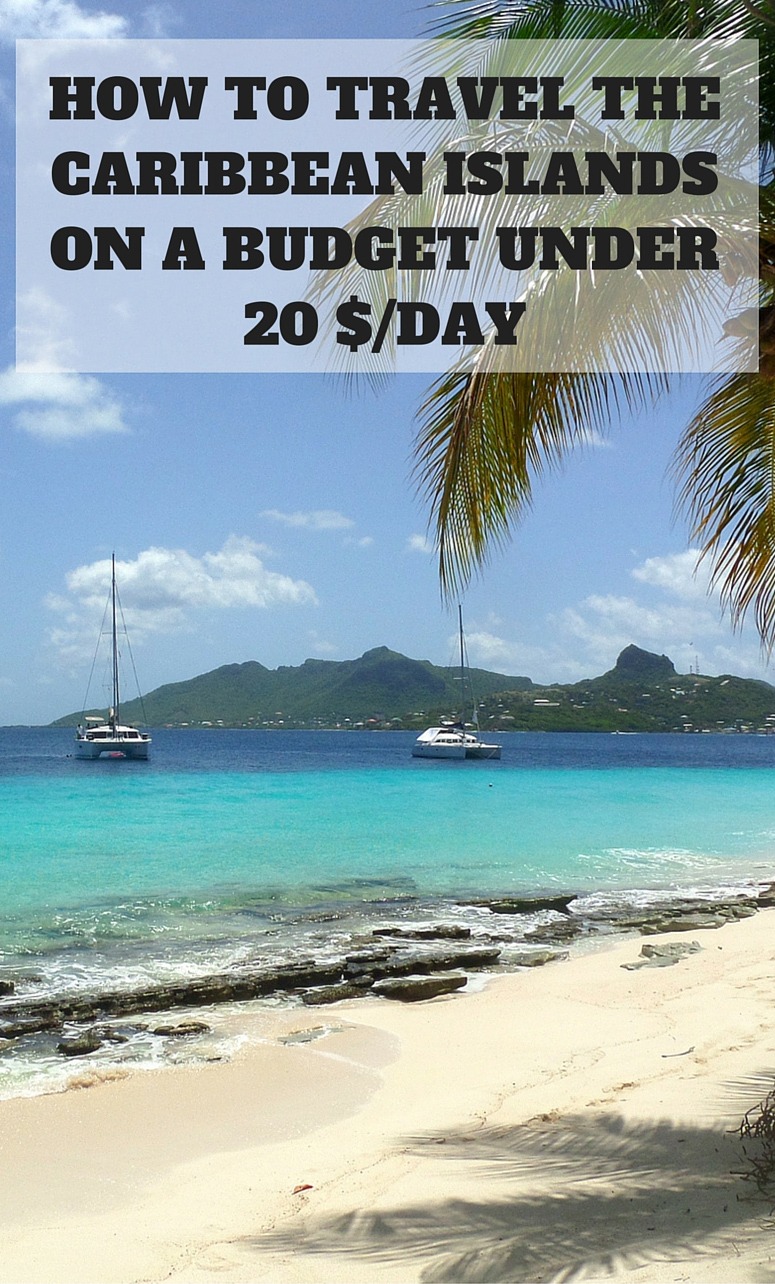 ---
Did you enjoy Backpacking the Caribbean on a budget? Leave a comment!
Some of the links in this post are affiliate links. This means that if you book or buy a service, I'll earn a small commission at no extra cost to you. I only link to stuff I love.
Hi, I'm Miguel; Adventure traveler, scuba diver and hiking lover. I have been traveling the world for the last 12 years and I hope my experiences, photos and hiking routes inspire you to travel the world too.