We'd like to begin this guest post by thanking Miguel one and a thousand times for being our host here at Travelsauro. He has opened his blog´s doors to us and we are truly grateful. Thanks to him for every tip and trick he has offered; they're awesome and highly motivating.
As for the presentations, we are Pablo and Let, Let and Pablo, heading up a project called Aprendizaje Viajero. In it, we write stories, tips and anecdotes for our fellow travellers. Today, we come to Travelsauro to speak about one of the most interesting routes in Europe – a 10-day trip to the Balkans.
During this trip, we visited Albania, Montenegro and Bosnia. It was an authentic adventure. Today we are going to focus on Montenegro – how we arrived there and how we visited one of the most interesting spots in Europe: the deepest natural canyon, Durmitor.
FLYING TO THE BALKANS
Dubrovnik (Croatia) is one of the most famous entry points to the region. However, we found another way to do it from below (its neighbour Albania) thanks to a very cheap flight we found online. We'd like to say that it's very important to know the best day of the week to book flights, because depending on the day it's possible to find variations of up to 15% of the price.
We flew from Madrid for about 60€ thanks to one of the premises of the article: NEVER book a flight on a Saturday.
Take a look at Skyscanner which shows you a comparison chart with the cheapest flights in each month.
ALBANIA
Tirana
Tirana is a very different city (if we can call it so). Although it's in Europe, its streets don't make you feel as though you are in the Old Continent. The people are friendly and happy to help you with anything you need. Keep in mind that English is not usually spoken here, so you might have to learn sign language before you book the trip.
The food is tasty, original and very cheap. The city offers a good opportunity to try new things. Needless to say, most infrastructures are awful; you will see this as soon as you leave the city. There is currently no train station, no bus station and no McDonalds! It's actually the only European capital without the famous Golden Arches, though this is a fact we appreciated, as it made us feel as though we were in an exotic destination. We hate that place, seriously.
Some people on the street told us that behind a shopping mall there were a few buses from different travel agencies going to Montenegro. Thus, we continued our trip on wheels with an Albanian driver who was completely crazy about traditional music.
If you want to visit some popular places around Tirana, you can check out these tours: Full-Day Berat Trip and Gamti Mountain Hike.
MONTENEGRO
Budva
Montenegro was the next stop on our trip through the Balkans. First, we stopped at Budva, home of the famous Sveti Stefan. It's a very "Instagram-friendly" small island. However, access is quite difficult because the island belongs to a five-star hotel. It's not a "backpacker spot." Still, we took some pics from the beach and it was worth it!
In Budva, we rented a car, then decided to visit the heart of the Balkans. This meant getting away from the beaches and into the mountains. Before that, though, we had an amazing stop: Kotor (which looks like a small Dubrovnik).
Kotor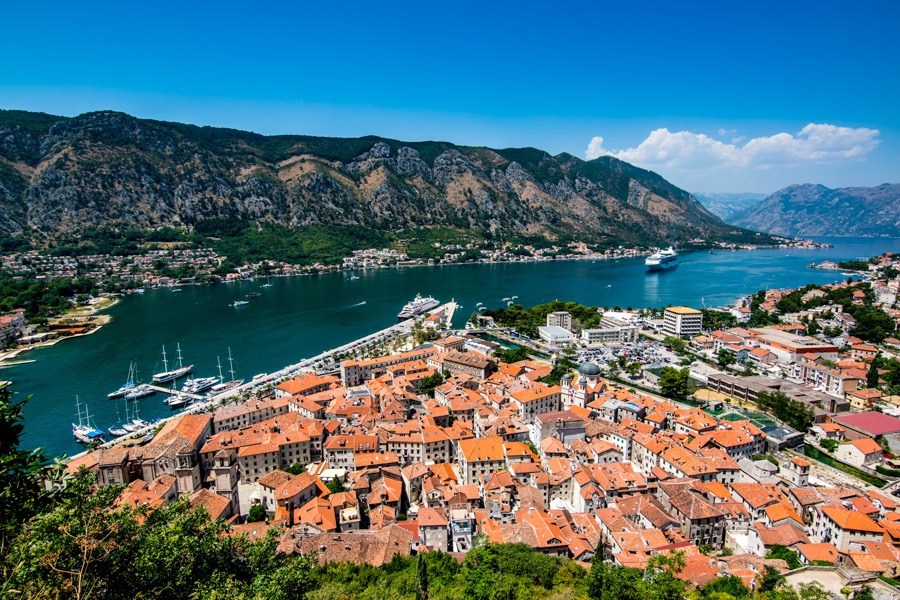 Kotor is the same thing as saying "tourism," so we stayed there only half a day. The fortress and Kotor Bay are two places you should visit. Seriously, get up the stairs and you'll find amazing views from the top. They're totally worth it.
From Kotor, there are day trips to a town called Perast, which is just 10 minutes away by car. There, you can eat at the seaside for just 5€ and enjoy the most AMAZING views of the two islands in the middle of the lake. For another 5€, you can find people who will take you there by boat. Highly recommended. Make sure you have your camera ready because you'll take lots of pictures.
If you want to visit other places around Kotor, check out this Kotor Boat Tour.
Durmitor National Park: The deepest canyon in Europe
We started going deeper into the country, as we couldn't wait to visit that region. Throughout this 10-day trip through the Balkans, there was certainly a must-visit place: Durmitor National Park. You need A LOT of patience to get there because the road delights you with 400 km of turn after turn. Be patient. Most drivers are absolutely crazy, but it's all part of the fun.
Montenegro has plenty of mountains, and the ride bordering the Piva River up to the Bosnian frontier was one of the most beautiful roads we'd ever driven. Crossing the national park will leave you breathless. You'll have to drive through 18 tunnels carved through the rocks, though they look more like caves than tunnels.
This region is perfect for rafting and other adventurous activities, so go ahead and try some if you'd like. However, we think that simply driving around this part of Europe was an adventure in itself. If you don't have your own car, you can take a tour and visit Durmitor Park from Kotor.
BOSNIA
We crossed to Bosnia through deep forests after making a stop at Scepan Polje, on one of the most dangerous border crossings in Europe. It's hard to get there due to the conditions of the road (and we were soaking wet due to a storm), so be careful if you decide to take this route.
The border police at Scepan Polje didn't help, either.
The Republic of Srpska
Wasn't this Bosnia? Yes, but we want to remind the reader that the country is divided not only politically and religiously, but also territorially. From 1992 to 1995, Bosnia suffered one of the bloodiest wars modern Europe has ever seen. One of the consequences was the creation of the Republic of Srpska, taking up 49 percent of the country. Most people there are orthodox Serbians, while the other 51 percent are Bosniaks.
Sarajevo
The road to Sarajevo was by far the worst we had encountered throughout our journey. The lack of pavement and the poor weather conditions didn't help. However, the landscapes are very picturesque. Sadly, in every village we crossed, we found the aftermath of the war, which gave us the chills.
Sarajevo is fascinating, one of the most spectacular cities we have been to. It's one of the highlights of any trip through the Balkans.
If you want to visit other place around Sarajevo, check out this Tour to Mostar, Blagaj, Počitelj and Kravice Falls.
TRAVEL INSURANCE
I highly recommend that you get a good insurance policy before you visit the country. Trusted by thousand of adventurers, World Nomads is one of the best and more reliable options (without breaking your bank).
– Article written by Pablo and Leti from Aprendizaje Viajero –
---
We would like to thank Miguel once again for opening his doors to us.
For more information on Albania, Montenegro, Bosnia or Croatia, you may follow us at:
---
Did you like this itinerary for a 10-day trip to the Balkans? Leave a comment!
Some of the links in this post are affiliate links. This means that if you book or buy a service, I'll earn a small commission at no extra cost to you. I only link to stuff I love.
Hi, I'm Miguel; Adventure traveler, scuba diver and hiking lover. I have been traveling the world for the last 10 years and I hope my experiences, photos and hiking routes inspire you to travel the world too.