Visit Svaneti and enjoy one of the most beautiful hikes in the country. The Mestia to Ushguli Trek offers beautiful villages and hundreds of medieval towers, all surrounded by truly spectacular nature. Although the Caucasus mountain range is impressive along its entire length, it's in this province where the mountain reaches its apogee. Here you'll find huge rocky peaks, hanging glaciers, powerful rivers, and colorful valleys.
The trek runs along a series of paths that connect small mountain villages. That's why it's the perfect option for those who travel without camping gear. Every night you can sleep in a town, then continue up the valley, cross a mountain pass, and reach the next town. On the fourth day, you'll walk into the beautiful village of Ushguli, putting an end to this adventure.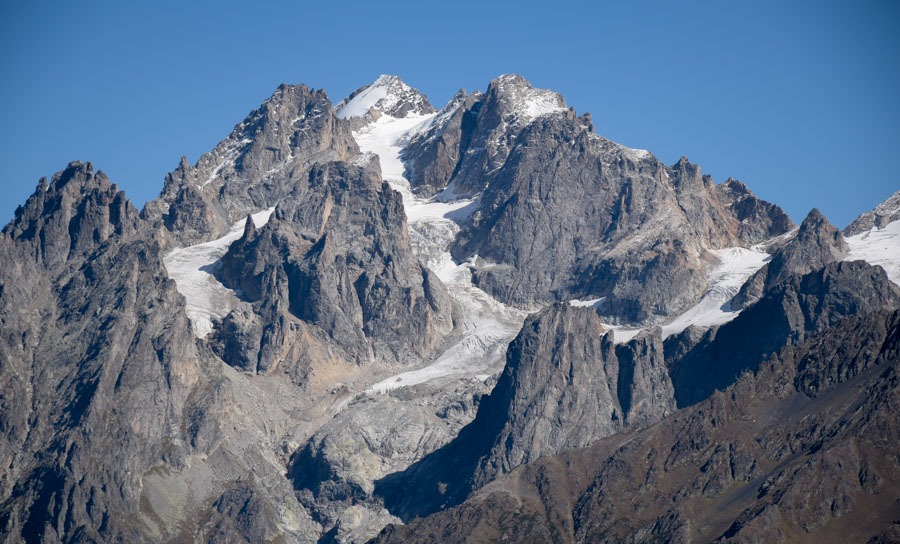 So far, everything sounds perfect, right? Well, not so fast. As you probably know, the hike from Mestia to Ushguli is the most popular trail in Georgia. This region has been receiving tourists for decades, and that's starting to have an impact.
All this development must be great for the local economy, and I'm very happy for the residents. However, the visitor will encounter 2 negative aspects: 1) This is such a well-trodden path that you'll find more hikers than cows. 2) The local people in the guest houses are so tired of tourists, they can be pretty unfriendly (even rude).
Fortunately, there is a way to complete the route by taking an alternative path, which I recommend to everyone. Instead of following the original trail from Mestia towards Zhabeshi, I took the trail that goes up towards Tsvirmi.
The alternative route boasts better landscapes than the original trail, fewer walkers, and more friendly local people. Honestly, I don't know why this option is barely known among hikers.
At the end of the second day, the alternative route merges with the original path, continuing all the way to Ushguli. There again you'll find a lot of hikers, but at least you had 2 days of peace.
Trekking from Mestia to Ushguli via Tsvirmi – Details:
Difficulty: Moderate
Distance: 68 km
Duration: 3-4 days
Highest point: 2,759 meters
Total elevation gained: 4,500 meters
Average day: 17 km over 4-6 hours with an elevation gain of 1,200 meters
Budget: 20 euros / day, sleeping and eating in guest houses
Itinerary:
Day 1: Mestia – Tsvirmi
Day 2: Tsvirmi – Adishi
Day 3: Adishi – Iprali
Day 4: Iprali – Ushguli
How many days do you need to complete this route? What are some ways to shorten it?
Most people in decent shape can complete this route in 4 days. Keep in mind that the alternative route via Tsvirmi is slightly longer (and more demanding) than the original route. Don't worry, there's not much difference.
Most stages are about 12-18 kilometers in length, and can be completed in 4 to 6 hours, depending on the pace. The third day is the longest and most difficult one. You'll need to walk about 18 kilometers and cross over the Chkhunderi Pass. The last stage is the shortest, at only 10 kilometers.
I did the trek in 3 days, completing 2 stages (3 and 4) in one day. To do that, I had to walk nearly 30 kilometers on the last day. It was a bit hard, but not the craziest thing to do. If you are a good hiker, you can do it.
Another way to shorten the route is to camp. There are no guest houses halfway between the villages in the itinerary. However, if you have your own tent, you can camp wherever you want, thereby shortening the trek.
For those who want to "cheat", or who don't want to get too tired, there is a part where you can take a cable car.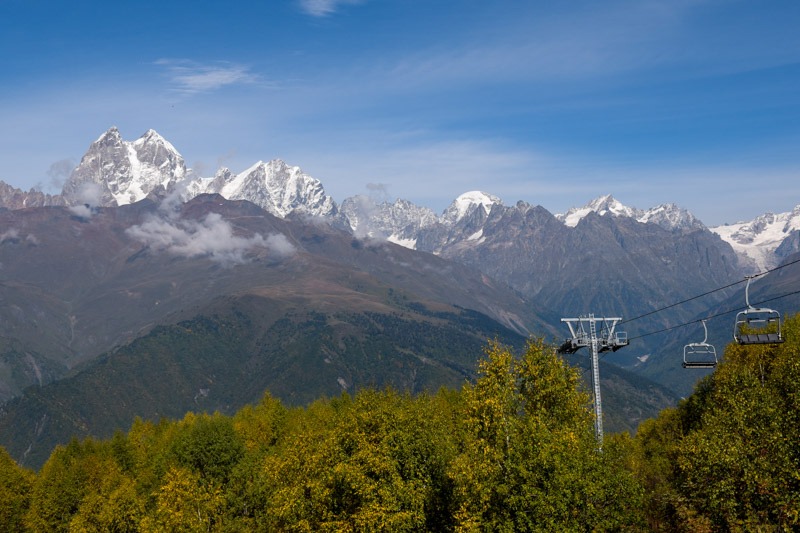 Is it safe to do independently, without guides?
Most people hike this route on their own. Signs are at many junctions and accesses, although not always. In any case, it's a quite populated and visited area and many parts of the trail are next to a road.
However, I do recommend that you bring a GPS device or a phone with a GPS app. This is a very important way to reduce risks. Getting lost in the mountains isn't fun at all. If you don't want to spend money on a GPS device, I recommend that you download Maps.me and Wikiloc on your phone. With Wikiloc, you can download this trail and follow it like you could with a real GPS device.
Difficulty and danger
I'd say this route is "medium" in difficulty. Certainly, it's not a difficult trail. However, you must be prepared to walk for 6 hours a day, crossing some rough terrain and gaining elevations of 1,200 meters.
If you choose the regular 4-day option, sleeping in the guest houses, it shouldn't be too difficult. You'll have time to rest each afternoon and replenish your energy. Obviously, you should have some hiking experience, but don't worry – you don't have to be an expert mountaineer. To be honest, I saw a few hikers who looked like they were hiking for the very first time in their lives.
On the morning of the third day, you'll have to cross a river that could be "slightly dangerous". There are 3 ways to cross it: wearing your boots (much easier to cross, but your boots will get wet), barefoot (you need to be more skilled, but you'll keep your boots dry), or crossing on horseback (there should be a guy with a horse to help you cross the river, but of course you'll have to pay for the service).
You'll find the river about an hour after leaving Adishi. I went barefoot, and I didn't find it too complicated to cross. Because this river is formed by the glacier melt, its volume increases throughout the day due to the action of the sun. I recommend that you complete the crossing early in the morning, when the river volume is less.
If you think the current is too strong, talk to the horse guy!
Also, you'll need to watch out for dogs. If you see cows or horses with dogs around, get as far as you can from the livestock. If you follow this advice, you shouldn't have any problems with dogs. I even met a very nice dog that hiked with me for half a day.
In other regions, like Tusheti, some dogs can be quite aggressive.
Is it possible to camp on this route?
Yes. If you're bringing your own tent, you can camp for free and complete the trek at your own pace.
Camping tips in Svaneti: Choose a quiet place away from villages; avoid steep areas with possible falling rocks; look for a place with a stream nearby; bring your food from Mestia; bring a stove, don't make a fire; when you have to go to the bathroom, make a hole in the ground and cover it later; leave no trace.
Budget for trekking from Mestia to Ushguli
Georgia is a fairly cheap country and Svaneti is no exception. You can complete this route spending 20 dollars / day + 10 dollars for some drinks + 10 dollars for the transport back to Mestia. In total, it's 100 dollars for a 4-day hike, eating like a king, and enjoying incredible landscapes.
What kind of accommodations and services will you find?
Accommodation in the region consists mainly of small family guest houses. Most of them charge the same price: 50 laris per person, including accommodation in a private or shared room, dinner, and breakfast.
In addition, they will offer you a "lunchbox", which usually includes a piece of bread, a boiled egg, and a piece of fruit. The price of the lunchbox is about 10-15 laris.
All towns that you visit on this route have become extremely touristy. Virtually all the houses that still stand up are now guest houses. You'll see a huge offering. However, keep in mind that during the tourist peak season (July and August), finding a bed can be difficult. In that case, I recommend that you book your bed in advance. Check the best prices on Booking.com.
In addition to the guest houses, some towns have a few minimarkets that sell cookies, beer, and little else. If you want to bring some snacks for the trek, I recommend that you buy them in Mestia.
Note: Due to the large number of tourists who visit these small towns, many of their inhabitants can be quite unfriendly. Don't worry, there are also nice people, just as there are anywhere.
Food and drink
Following the Georgian tradition, you'll always have plenty of food at the table. One thing is for sure: You won't go hungry during the trek. Despite some hosts' lack of sympathy, they will feed you very well.
To drink, most guest houses sell wine, chacha, and beer. If you want to refill your water bottle, you'll find many streams along the trail. However, make sure no animals are around that could have contaminated the water.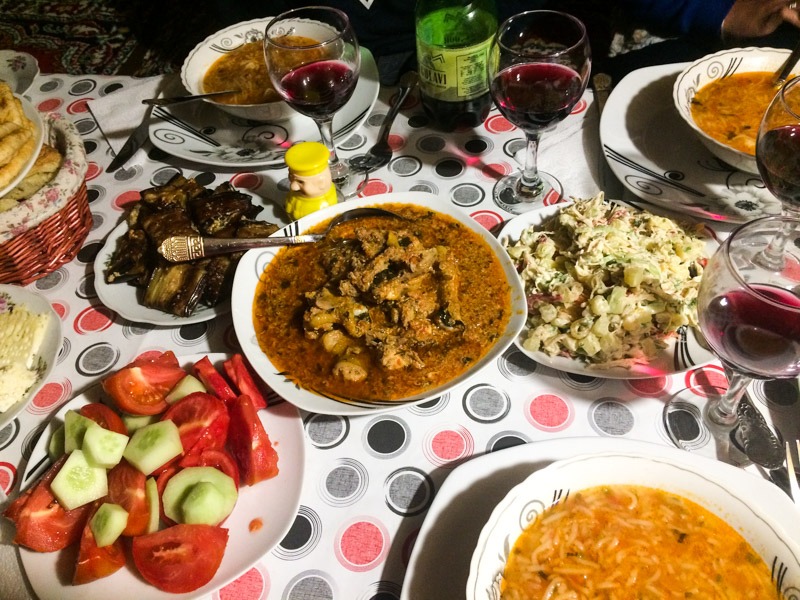 Transportation within the trek
All the towns you'll go through are connected to the main road. If you have any problems, or if you are just tired of walking, you can look for a car that will take you back to Mestia, Ushguli, or wherever you want.
Public transport from/to the villages is virtually non-existent. In that case, you will have to hire a taxi and negotiate a price. Be careful because they can be quite overpriced. I met an Israeli guy who was asked for 200 laris for a ride from Adishi to Ushguli.
Weather: When to hike from Mestia to Ushguli
The best months to complete this trail are June to October.
In June, the landscapes are beautiful, but there is a higher chance of rain. In addition, it's likely that the famous river crossing could be somewhat more dangerous due to the snow melt.
July and August are the best months in terms of weather, but there will be more tourists and fewer free beds.
I went in September, and I think it was a great month. There weren't many tourists, the weather was still good, and the forests had beautiful autumn colors.
October is another good option, but keep in mind that the days get colder and shorter.
The highlights
This circuit offers really impressive landscapes. If for any reason you need to shorten the route, I recommend that you don't miss any of the following places.
– The Mentashi viewpoint. On the first day, instead of taking the path in Heshkili that goes down to Tsvirmi, keep walking east until you reach the viewpoint. You'll easily recognize it because a telecommunications station is on top of the hill.
– The climb to the Chkhunderi Pass. It's one of the most beautiful sections of the hike, and it's done on the third day. The climb to this pass, which is 2,700 meters high, offers spectacular views of the Adishi Glacier.
– The arrival in Ushguli is also really exciting. After several days of walking, you'll look forward to reaching the final destination. In addition, Ushguli and the villages around it boast the most beautiful medieval towers in the region.
Mountain gear
Because you can stay in guest houses every night, you won't need much gear. Take a look at the following list and make sure you have all the basics:
– Mountain boots
– Convertible trekking pants
– Breathable t-shirts
– Raincoat
– Down sweater
– Mountain hat
– Headlamp
– Filtered bottle
– Knife
– First aid kit
– Hygiene products
– GPS device (optional)
Tips for hiking this trail
– Start in Mestia heading to Ushguli, and not the other way around. It's more exciting to leave Ushguli for the end.
– If you travel during the summer, book the guest houses a few weeks in advance.
– Don't forget to bring a filtered water bottle like the Lifestraw. Refill it straight from any streams without the risk of getting sick.
– You can hike solo if you want, as you'll find other hikers on the road. However, I always recommend hiking with buddies.
– Bring a GPS device.
– On the last day, try not to arrive too late in Ushguli. Getting transport back to Mestia after 4:00 p.m. can be complicated.
– Bring all the money you need from Mestia. The guest houses do not accept credit cards. Obviously, there are no ATMs either.
– If you plan to camp, bring all your food from Mestia. The few minimarkets in the villages are very basic.
– Get travel insurance to avoid risks. I always recommend WorldNomads.
Trekking from Mestia to Ushguli via Tsvirmi on your own:
FIRST STAGE: HOW TO GET TO MESTIA
By plane:
Vanilla Sky operates a small plane from / to Tbilisi 5 days a week. The price is quite reasonable, but the plane doesn't fly if there are strong rains or storms, which are quite frequent in the region.
Check out Skyscanner to find the cheapest flights.
By marshrutka:
Every day, marshrutkas leave from Tbilisi (30 GEL, 9 hours), Zugdidi (20 GEL, 3 hours), Kutaisi (25 GEL, 5 hours), and Batumi (30 GEL, 6 hours, only in the summer).
There are different bus stations and schedules. Ask at your hostel; they should know the schedules.
By train + marshrutka:
One of the most popular options for traveling from Tbilisi is to take the Tbilisi-Zugdidi night train. It leaves at 9:45 p.m. and arrives in Zugdidi at 6:05 a.m. (30 GEL). Once in Zugdidi, take the next marshrutka to Mestia. By doing this, you can sleep on the train, making the trip more comfortable.
SECOND STAGE: HIKING FROM MESTIA TO USHGULI
Keep in mind that we are talking about the alternative route that goes through the town of Tsvirmi, not the traditional route via Zhabeshi. I recommend that you take this alternative route (like I did), as the landscapes are more scenic and the path is less crowded.
Day 1: Mestia to Tsvirmi
First, you need to leave Mestia and head towards Heshkili. To get to this small town, you have 2 options:
The first is to take the cable car up to the viewpoint. Keep in mind that the cable car opens only after 10:00 a.m., and only when the weather is good. If it's cloudy, you'll have to walk all the way up. If you take the cable car, you'll skip about 3 hours of uphill walking.
The second option is to walk along the ugly, steep road that connects Mestia and Heshkili. If you are a purist, take the road (as I did). Otherwise, take the cable car.
From Heshkili, a path leads directly to Tsvirmi. However, I recommend that you take the trail going east, which will allow you to enjoy stunning views. Finding this diversion can be a little tricky. When you get to Heshkili, you'll see a pretty big wooden house. Instead of following the path next to the house, take a detour to the left (following the uphill path). A little farther on, you'll find the Mentashi telecommunications station. This place offers a totally unforgettable panorama of Mount Ushba and other peaks around.
After passing Mentashi, take the path down to Tsvirmi. When you arrive in Tsvirmi, you'll see that it's a pretty basic town, somewhat ramshackle and not very touristy. Don't worry; there are several guest houses, so you won't have any problem finding accommodation.
Day 2: Tsvirmi to Adishi
This is supposed to be another day with impressive views. In my case, it was quite cloudy all day, so I couldn't really enjoy much of the landscape.
After leaving Tsvirmi and walking uphill and downhill for a few hours, you'll reach a point where your path merges with the original one. A little farther on, you'll see some ski lifts. There, you'll have 2 options. You can take the upper trail or the lower trail. Both lead to Adishi. The upper option offers better views, though the trail itself is a bit ugly due to the construction work on the new ski resort. The lower trail is less demanding, but the views are not as impressive. It's up to you.
Adishi is a beautiful town with lots of options for cheap accommodation. Basically, every house is now a guest house.
Day 3: Adishi to Iprali
This is the most scenic (and the trickiest) day of the whole trek. About an hour after leaving Adishi, heading towards the glacier, you'll find the famous Adishi River. If the water level is low, you should be able to cross it without problems. Just keep in mind that the water is extremely cold, as it comes straight from the glacier.
If you see that the water level is too high, or if you don't feel confident, don't be stupid! Usually, a guy is there with a few horses to help tourists cross the river. Ask him for a horse.
Once you have crossed the river, you'll see a path that goes into the forest. Take it and walk uphill until you reach the Chkhunderi Pass. This climb takes about an hour and a half and offers some breathtaking views.
After crossing Chkhunderi, you only have to walk down the path towards Iprali for a couple of hours.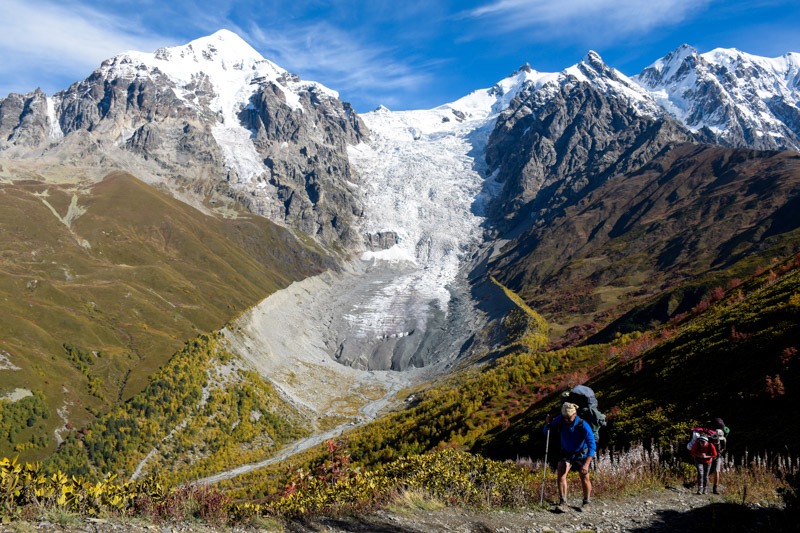 Day 4: Iprali to Ushguli
To leave Iprali, you'll need to walk along the dusty paved road leading to Ushguli. But watch out: After a few minutes on this dirty road, you have to take the path on your left. It's a narrow hiking trail that goes uphill on the left side of the road. The views over the ravines and the mountains are pretty nice.
The last part, when you're getting close to Ushguli, is really exciting. Before reaching Ushguli, you will pass through other beautiful villages adorned with dozens of truly impressive medieval towers.
When you arrive in Ushguli, you'll see the classic postcard you have seen so many times before: the stone houses of Ushguli, the beautiful medieval towers, and the huge Shkhara Mount in the background. It's a fascinating place.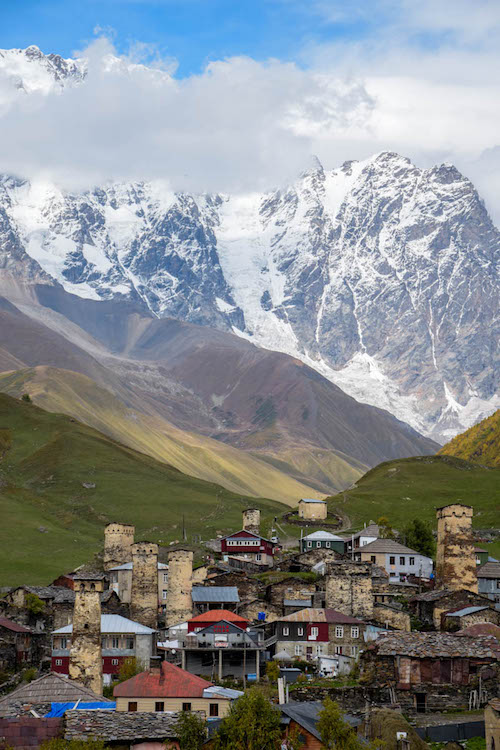 THIRD STAGE: HOW TO LEAVE USHGULI
Traveling from Ushguli to Mestia should be easy as long as you don't get there too late. Several marshrutkas take this route every day, but usually not after noon. There are also dozens of vans offering day trips to Ushguli, so they could take you if they have room.
Ask around and you'll find something. The price for the Ushguli – Mestia trip is about 25-30 GEL. It's pretty expensive compared to other rides in the country, but hey, such is life.
Other spectacular hiking routes around Mestia:
In addition to the spectacular hike from Mestia to Ushguli, I recommend that you stay in Mestia a bit longer and enjoy other cool places.
Chalaadi Glacier: To get to the glacier, you'll need to take the road to the airport and continue towards the Mestiachala Valley. After crossing the bridge over the river, take the forest path until you reach the foot of the glacier. This hike can be completed in about 6 hours round-trip. If you don't want to walk too much, you can take a taxi up to the bridge and then ask the taxi to wait until you come back. The price of the round trip, including waiting time, is about 60 GEL.
Koruldi Lakes: One of the most beautiful places in the entire region. It consists of a series of lakes (though they look more like pools) located in a wonderful spot, right in front of steep mountains. To get there, most tourists hire a car with driver, as a dirt road goes up to the lakes.
If you like hiking, a very steep trail will take you to the lakes in 3 or 4 hours. Calculate about 8 hours for a leisurely round trip.
---
Did you like Hiking the Mestia to Ushguli Trek in Svaneti, Georgia? Leave a comment!
Some of the links in this post are affiliate links. This means that if you book or buy a service, I'll earn a small commission at no extra cost to you. I only link to stuff I love.
Hi, I'm Miguel; Adventure traveler, scuba diver and hiking lover. I have been traveling the world for the last 10 years and I hope my experiences, photos and hiking routes inspire you to travel the world too.