Hiking Mount Ramelau is one of the most rewarding activities you can do on your visit to Timor Leste.
No need to be a mountaineer in order to reach the summit and witness some truly beautiful views. The entire region is very authentic, comprising of small villages throughout valleys and hills.
Hiking Mount Ramelau on a budget
The idea is to get to the town of Hatobuilico at least one day before, so that you can explore the nearby villages and spend the night there. The people of this region are particularly friendly and the kids will love to play with you, and even ask you for photos.
Map
The trek to the Mount Ramelau and later to the Peak Tataimalau at 2,963 meters is not a difficult walk.
For me, it was a little more complicated because the night before some fellow travelers and I had a little too much local liquor, but that's another story.
I highly recommend you wake up early to get to the top at dawn.
In our case, we were lucky enough to encounter a unique pilgrimage that we were told occurs only once or twice a year.
This place has great relevance in the local culture as House of the Spirits and a meeting place with ancestors. The celebration, however, had Christian aspects, a legacy derived from the Portuguese.
Thousands of people came to the statue of the Virgin Mary that crowns the mountain, followed by a colorful celebration in which everyone participated.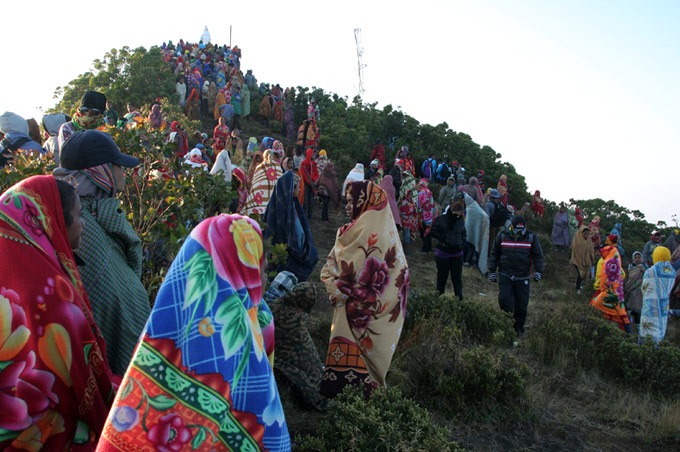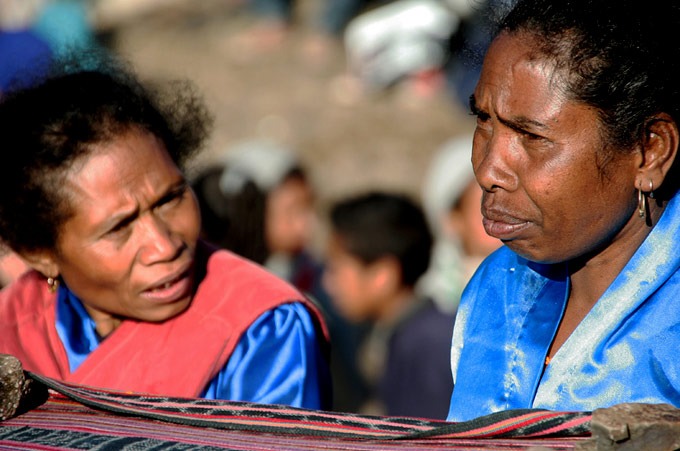 ACCOMMODATION
There are several Guest Houses in Hatobuilico. About 10 -15 dollars
TRANSPORT. HOW TO GET TO MOUNT RAMELAU
Getting to Hatabuilico by public transport is very complicated.
There is a 3 hour bus from Dili to Maubisse for about 5 dollars that you can catch. Another bus then continues up to the junction towards Hatobuilico but from this junction you cannot go any further by public transport. As I had no other option, I walked the rest of the way with my heavy backpack for about 3 hours. On the way back however, I was lucky that a car stopped to offer me a lift.
FOOD AND DRINK
In the village there is not a wide range of restaurants to choose from, however if you ask, the hostel can prepare something for you.
Beware of the local liquor, it´s strong, yet tastes like water and trust me, it complicates the climbing.
WATHER. WHEN TO GO
The best season to visit is from June to September when there is not much rain.
TRAVEL TIPS FOR HIKING MOUNT RAMELAU
GUIDES
A guide is not necessary at all. The climb can be completed in 3 hours from Hatabuilico and the path is clearly marked. You will need a decent torch to follow the path at night.
---
WARM CLOTHES
At the top of Mount Ramelau, it can be quite windy and cold until the sun rises. If you don't have warm enough clothes, taking a blanket from the hostel can be a good idea.
---
HITCHHIKING
When returning back, it is a wise idea to ask the villagers, hostel, etc. if someone is leaving for Dili so you can get a lift. People here are very friendly so no need to feel shy.
TRAVEL INSURANCE
I highly recommend that you get a good insurance policy before you visit East Timor. Trusted by thousand of adventurers, World Nomads is one of the best and more reliable options (without breaking your bank).
---
Check out
the Ultimate Hiking gear list and don't forget anything important on your Asian expedition!
Did you like Hiking Mount Ramelau? Leave a comment!
Some of the links in this post are affiliate links. This means that if you book or buy a service, I'll earn a small commission at no extra cost to you. I only link to stuff I love.
Hi, I'm Miguel; Adventure traveler, scuba diver and hiking lover. I have been traveling the world for the last 12 years and I hope my experiences, photos and hiking routes inspire you to travel the world too.